Whether you're a beginner or a skier that has slid their way down the sides of countless mountains, having the very best safety equipment is essential. 

In this article, we're going to take a look at some of the very best back protectors available in 2020 for both skiers and snowboarders, so let's take a look.
Price: £74.99 – £98.27
Pros: Very well-reviewed across the community.
Cons:  A few complaints of the protector "riding up" during skiing, but very few.
Ideal for: Those searching for breathable back protectors.
---
This L39139100 Ski Back Protector comes from one of the best-known ski brands in the world, and it doesn't disappoint. Offering total flexibility and breathability, it features mesh inserts and a unique thermo control system. If you're searching for a middle-ground back protector that offers skiing without movement restriction, this one should be on your shopping list.
Price: £79.99
Pros: Cheap and reliable.
Cons: None found.
Ideal for: Ladies looking to enjoy safe skiing at budget-price levels.

It would be an injustice to discuss Salomon's leading men's back protector without also mentioning its women's. This back protector features adjustable motion fit technology that prioritises breathable and flexible movement. Ideal for beginner to intermediate skiers, this back protector should not be overlooked.
---
Price: £49.99
Pros: Very cheap.
Cons: Not well-known
Ideal for: Skiers searching for ultra-cheap protection.

Without sacrificing safety, this back protector from BenKen is perfect for those in need of protection without breaking the bank. Complete with half an inch thick DH3 foam by Basf, the full-body protection is a little heavier than most, but it does protect the front and sides as well as the back.
---
Price: £121.89
Pros: Soft and flexible.
Cons: Not a traditional skiing back protector.
Ideal for: Those looking for extra upper body protection.

A hybrid of sorts, this robust soft flex hybrid body protector from Dainese comes complete with flex technology that offers a run-resistant mesh. Sometimes thought of as a protective waistcoat by those in the community, it comes with an adjustable belt, so is suitable for just about any skier. With many skiers complimenting it on the freedom it offers, this protector is one not to miss for near-total upper body protection.
---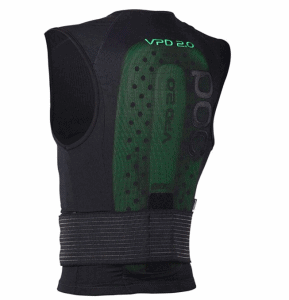 Price: £146.99 – £202.36
Pros: Constantly on the best-of lists for protective clothing.
Cons: Higher price range.
Ideal for: Those searching for protection without compromise.

This back protector has appeared on the best-of lists for years, and that's because it is unflinching in the style, safety, and value that it offers. Designed and manufactured by POC, the VPD 2.0 is 3D moulded and is often the protector of choice of sportsmen outside of skiing and boarding. Complete with vent holes for added breathability, take a look today if budget is no issue.
---
Price: £35.99
Pros: Dirt cheap.
Cons: Relatively unknown brand.
Ideal for: Practice or lesson skiing

This REAPER back protector was actually recommended in one of the team's favourite skiing forums as a cheap protector for those taking lessons. Great for if you're unsure whether skiing is for you, there's not much lost if you decided to pack it in. Complete with adjustable shoulder straps and belts, this back protector is great for one-off trips and those looking for disposable safety equipment.
---
Price: £81.99
Pros: Highly flexible.
Cons: Offers no additional protection.
Ideal for: Those searching for uber lightweight back protection.

Atomic is a heavyweight of the skiing world and this sleek back protector offers premium protection against the elements. Suitable for both men and women, it offers no less than three layers of multi-density foam for maximum protection. Complete with an Elastic Air Mesh material and Active Thermo Fit, this is one of the premier back protectors on the market in 2020.
---
Price: £64.86
Pros: Ideal child protection.
Cons: None.
Ideal for: Those seeking ultimate protection and safety for their children.

For parents searching for childrens' back protectors for skiing, it comes as little surprise to learn that Salomon provides one of the best on the market. Totally breathable thanks to mesh inserts, the protector is completed by Flexcell technology for optimal shock absorption. Available in four sizes, the protector is suitable for children of all ages.
---
Price: £246.02
Pros: Premium protection for when you need it most.
Cons: Higher price tag.
Ideal for: Skiers that want the best.

For skiers that want the best possible protection from their protectors, this BackPro II from Scott offers ultimate high-quality protection. Featuring Soft Actifit plate with additional D3O reinforcements, this protector is perfect for those looking to test the limits of their creativity and skils. Innovative and backed by experienced skiers, this premium back protector should not be overlooked.
---
Price: £97.03
Pros: Highly recommended and versatile.
Cons: Not the prettiest of products.
Ideal for: Skiers wanting premium protection without the premium price tag.

Dianese' second addition to this list, the Manis Winter 55 Back Protector comes highly recommended and is complete with perforated crash absorb and localised comfort padding. Offering no less than four degrees of freedom (longitudinal stretch, longitudinal bending, torsion,  and lateral bending) this protector is by far the most versatile on the list.

After all, to snow ski know is to snow ski safe.