Aside from keeping you warm and holding the moisture close to your body, ski socks are of course highly fashionable and come in an array of designs and materials. With that thought in mind, let's take a look at 10 of the best ski socks on the market for the slopes of 2020.
Cost: £18.19-£42.58
Ideal for: Those who seek premium comfort on the slopes.
Pros: Totally breathable and the unique design helps to reduce foot odours.
Cons: Slightly pricier than most ski socks.
When it comes to ski socks, Smartwool really is one of the most trusted and well-known brands on the market. These Smartwool PhD Ski socks are perfect for those that want to make an impression on the slopes while remaining comfortable and warm throughout the entire day. They are even designed with body-mapped mesh zones for added breathability.
---
Cost: £23.00
Ideal for: Skiiers who want to remain as dry and as comfortable as possible.
Pros: Accelerates drying time for longer days of skiing.
Cons: Not advised for colder days where extra insulation is needed.
With a higher thread count than most, these Point6 Ultra Light Ski socks have gained a loyal following in the short time that they have been on the market. Containing 37.5 active particles, the wool is supercharged to attract moisture, before it gets the chance to form a sweat droplet. Ideal for those with tight boots, these offerings from Point6 are not to be overlooked.
---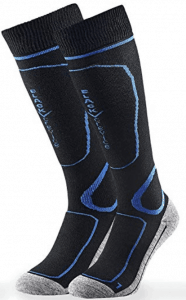 Cost: £13.99-£17.36
Ideal for: Those allergic to wool material.
Pros: Great for those on a budget who want high-quality ski socks.
Cons: Only available in two designs.
Made from 100% Polyester, these Black Crevice ski socks offer optimal fit thanks to specially incorporated elastane. Ultra-light and breathable, the socks are also great for those skiing on a budget. Padded for areas of impact, if you're new to skiing or are just heading out for a weekend, these socks are the perfect options to fill your boots with.
---
Cost: £15.57
Ideal for: Skiiers searching for high-quality socks for a very low price.
Pros: Wigwam is a household name and these socks are a bargain. 
Cons: They are a bargain because visually, they are harmful to the senses.
A mid-weight sock, these Wigwam Sicoros come highly recommended and are composed of 42% Merino wool, 24% stretch nylon, and 34% of other synthetics. Appealing to those who want to avoid skin irritation, the complex nature of the fabric reduces friction and itchiness.
---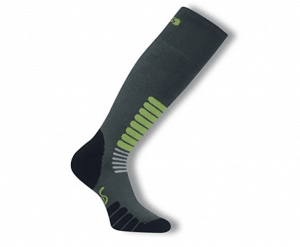 Cost: £24.01-£24.56
Ideal for: Skiiers requiring high-performance socks.
Pros: Brilliantly designed and responsive to the demands of intense skiing.
Cons: Higher price bracket than most ski socks.
Designed and manufactured in Italy, Eurosocks' OTC Zone Ski Socks offer dynamic cushioning that eliminates abrasion and offers maximum possible protection. Manufactured with Micro Supreme materials, the socks are renowned for keeping the feet warm, dry, and comfortable at all times. What's more, their long length stimulates blood flow to promote comfort and support.
---
Cost: £46.99-£49.99
Ideal for: Skiiers who want to keep their feet extra warm on the slopes.
Pros: They offer three temperature levels and come with batteries.
Cons: Expensive gear, which might not suit those on lower budgets.
If you're constantly feeling like your feet are turning blue on the slopes, these wonderful Svpro Upgraded Heated Socks are perfect. Absorbent, breathable, and stretchy, the socks come highly rated and can last for up to 11 hours on the lowest setting.
---
Cost: £20.50
Ideal for: Those requiring extra support.
Pros: Superior thermal insulation.
Cons: Not many, they're pretty good for those seeking all-round ski socks.
With supportive cushions around the shins and heels, these Slope Warrior socks are designed to offer skiers support when they need it the most. They're also designed with three-way support, Y construction and anti-fold function, creating the perfect fit. What's more, the socks contain Nilit Heat yarn for superior heat retention.
---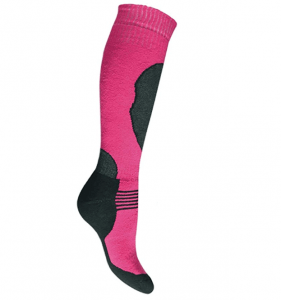 Cost: £10.50
Ideal for: Skiers searching for extreme savings.
Pros: Very highly rated throughout Amazon.
Cons: Cheap price could mean they survive only one holiday or outing.
For ladies looking for big savings, these Bonjour Ladies Ski Socks are the ultimate choice. Offered in a range of colours, the socks offer extra shin protection, alongside grip zones for extra ankle support. Many skiers report that they are warm enough even on some of the coldest days.
---
Cost: £21.08-£28.37
Ideal for: Warmer slopes.
Pros: Great for those with injured or sensitive toes.
Cons: Limited designs.
Made from 77% merino wool, these Icebreaker socks feature a staggered toe seam that work to avoid awkward chaffing, which means that they are great for those with toenail injuries or other afflictions. Temperature regulated and perfect for warmer weather skiing, they are some of the highest acclaimed socks on the internet.
---
Cost: £16.99
Ideal for: Colder weather skiing
Pros: Reinforced for comfort during day-long sessions.
Cons: Slightly thinner material along the soles.
Well priced for a premium brand, these High-Performance GRM Thick Snow Skiing Socks are comprised of superior materials that combine a lightweight and quick-drying blend. Completed with wicking toe panels, the socks offer superior comfort and are ideal for a variety of winter and cold weather sports.