Snowboard bindings are incredibly important for boarders looking for maximum style and control. That said, however, no one binding is the same, and new styles and designs get released every ski season.
With these important facts to mind, let's take a look through some of the very best snowboard bindings available in 2020 from some of the best and most respected brands.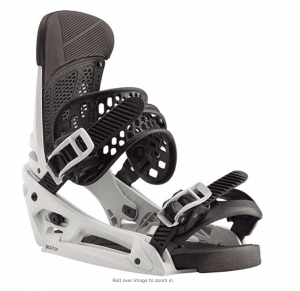 Price: £235.80-£297.95
Ideal for: Skiers looking to improve on strength and speed.
Pros: Durable and lightweight.
Cons: Thin footbed.
Packed with advanced features and designed with revolutionary double-take buckles, these Malative EST binding from Burton are perfect for boarders that want to add a little versatility to their game. Complete with Zero Lean Canted High Back Design, the binding promotes proper leg positioning for the most efficient and stress-free rides.
---
Price: £160.92
Ideal for: Intermediate to advanced boarders.
Pros: Made with high-quality materials; guaranteed to last longer.
Cons: None to mention
If you're looking for a middle-range binding that allows for creativity on the mountainside, then the Union Contact Pro is a perfect option. With multi-positional straps and aluminium ratchets, these bindings are tough enough while also being totally flexible and comfortable enough for ultimate control  — perfect for if you want to take a few creative risks.
---
Price: £230.02
Ideal for: Boarders looking for maximum support.
Pros: Smooth ratchets.
Cons: Sometimes difficult to exit.
The K2 Snowboarding Lien AT is one of the top bindings on the market at the moment. With a seamless ankle strap, an excellent canted footbed, and cushioned footbed padding to die for, there's no wonder why more boarders are turning to K2's Lien AT. What's more, built and designed for durability, this is a product you can turn to time and time again.
---
Price: £296.89
Ideal for: Boarders looking for ultimate convenience.
Pros: Incredibly easy to strap onto any board.
Cons: Higher price range.
This beautiful Nidecker Flow Fuse Binding 2020 is designed with ultimate comfort and convenience in mind. Featuring a newly designed supportive spine and manufactured with glass-filled nylon in both the high-back and base plate, there are few bindings more durable and easy to enjoy than this.
---
Price: £300.46 – £329.99
Ideal for: Expert boarders.
Pros: Ultra-lightweight.
Cons: Can only really be appreciated by those with great levels of experience.
By far one of the finest and most lightweight bindings on this list, the Rome Katana Binding is designed to absorb 30% more impact compared to standard bindings. Featuring a beautifully designed baseplate, complete with moulded cup designs found only on this binding, if you can afford the higher prices, this binding should definitely be up for consideration.
---
Price: £410.72
Ideal for: Boarders searching for extra riding support.
Pros: Perfect for smooth and comfortable riding.
Cons: Not budget-friendly.
Featuring composite bindings and medium flex, the Salomon District HPS Binding is adored by boarders looking for maximum comfort and riding pleasure on the mountain-side. At the same time, however, if you're looking to try out some new mad-skills on the slopes, this binding compliments creativity perfectly, and shouldn't be overlooked if you can afford the near half-grand price tag.
---
Price: £279.19-£389.90
Ideal for: Boarders looking for maximum flex.
Pros: Brilliant for aggressive riding.
Cons: Could be a little too much for beginners.
For riders that just love testing the limits of not only their ability, but the natural laws of physics, Burton's Genesis bindings are surely the ones for them. Built to resist poundings and extreme stress time and time again, the two-piece highback reduces tension and vibration against the legs, which means that you can really go for it.
---
Price: £242.64 – £349.90
Ideal for: Expert-level boarders
Pros: Another binding perfect for daredevils.
Cons: Not appropriate for beginners.
Worn by none other than Travis Rice, the Union Falcor Binding comes in the highest regard. Designed to offer maximum creativity, the carbon and nylon fused highbacks offer both a stiff and flexible feel when riding. If you're someone that likes to push the limits, there are very few bindings that come with more recommendations from some of the best-known names in boarding.
---
Price: £172.90
Ideal for: Beginners looking for a cheap deal.
Pros: Totally reliable for newbies.
Cons: Likely not suitable for advanced riders.
Not many bindings on this list are designed with beginners in mind, but the K2 Bedford 2020 comes highly recommended by many instructors and trainers. With a tool-free adjustment, you can dial a custom-fit with ease, and the plush straps can be adjusted to match just about any boot. Featuring a mid-flex control and canted high-back, this binding is suitable for just about any style of beginner-level boarding.