A lot of people underestimate the importance of good quality ski gloves. Hands and fingers are usually the first body parts to suffer from cold, and nothing can ruin your enjoyable skiing time more than freezing hands.
It is important to note at first the difference between mittens and normal gloves. While mittens allow the fingers to be in one compartment due to its design, gloves have different separated compartments. This makes mittens much more warm compared to gloves, but also reduces their dexterity and flexibility. It is difficult to use your phone, or even unzip your jacket with mittens.
Nowadays, companies produce some hybrids of these two, called 3-finger hybrids.
The main factors to judge and look for when choosing your ski gloves are warmth (or insulation) and dexterity (the ability to be able to easily perform tasks with them on). These are well-known to the professionals, but also to the casual skiers. However, there are other important factors like comfort, closure (the firmness of the gloves when put on), durability, protection from moisture (waterproof), and even style (though not in the functional aspect, it is always important in deciding what to wear).
With these in mind, let us have a look at the top ten rated ski gloves of 2020 (updated 06/01/2020):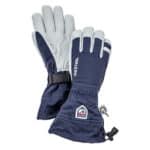 Strong Points: comfort, insulation, durability
Weak points: maintenance required
This ski gloves, developed by a well-trusted Swedish manufacturer, have a hybrid design of leather and synthetic material that offers a comfortable feel, while allowing good flexibility and durability. The Heli provides good insulation and is waterproof. But in order to keep the moisture away, you will occasionally have to reapply leather conditioner. This all comes at a very competitive price, which makes up for the cost of the maintenance.
---
Strong Points: insulation, durability
Weak points: flexibility
These gloves focus primarily on warmth and durability. Their insulation is better than the Hestra Heli model. Their design offers a completely waterproof product, but with some lack on mobility and flexibility compared to the Heli. It is easily the best choice for extreme cold conditions, and though its disadvantages, it is the most popular in the market and also by the hardcore skiers.
---
Strong points: flexibility, dexterity, insulation
Weak points: price, maintenance required
The other Hestra product in this list is the Morrison Pro model. These gloves offer maximum flexibility and dexterity, while maintaining the insulation to a competitive level with the other products. The product is fully waterproof and has a functional ventilation system. The leather needs periodical maintenance. Even at this price, the Hestra Morrison Pro remains one of the best picks for the skiers who desire mobility and performance.
---
Strong points: insulation, price
Weak points: flexibility, dexterity
Mittens have a big advantage to normal gloves, as mentioned above, in insulation, but lack in dexterity and flexibility. Without being exactly the exception to this rule, the Mercury model offers a reasonable balance while being extremely durable. The only downside is the comfort, which is lacking in comparison to its glove counterpart. It should definitely be the first choice of skiers who suffer from cold hands.
---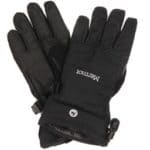 Strong points: dexterity, comfort
Weak points: insulation
These gloves, compromised of a mixed design of leather and nylon, offer excellent dexterity. The insulation is competitive, though less compared to the products above in this list. It is extremely comfortable thanks to its soft interior. It has good ventilation, that does not hinder its mobility. The price is definitely one of its stronger points.
---
Strong points: price, comfort
Weak points: insulation
These gloves offer great comfort and are fully waterproof. They have a tough build, but the low price does come with its downsides. They have not the quality of insulation offered by its competitors, and suffers in mobility too. The Gore-Tex offers however some special details, like the zippered pocket for a hand warmer, and the removable liners that allow the gloves to be used in biking and hiking. They are touchscreen-friendly and are the best choice for the casual skier.
---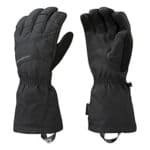 Strong points: fully waterproof, dexterity, lightweight
Weak points: insulation
The durable nylon shell of the Arete offers a fully waterproof design. The gloves are lightweight and comfortable. It is a really competitive product in its price category, since it offers a decent insulation and good dexterity. It offers some special features, like the removable liner, compared to its competitors.
---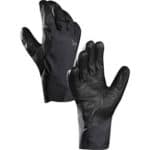 Strong points: waterproof, insulation, dexterity, comfort
Weak points: price
These gloves have a unique design, with a 3-layer construction that is fully waterproof and has good ventilation. They are well-liked for their dexterity in common simple tasks like unzipping your pocket or using your phone. All these, without any lack on insulation or comfort, comes unfortunately at a high price that cannot be afforded by the casual skier.
---
Strong points: style, dexterity
Weak points: insulation, not fully waterproof
These gloves showcase perfectly the importance of style. The all-leather design with exposed stitching is well-liked by skiers and non-skiers alike. In fact, the Fall Line model is fairly used for everyday wear in the winter season. Its performance is however a bit lacking, especially on insulation and in protecting you from moisture.
---
Strong points: safety, insulation, fit system
Weak points: dexterity
The Legend model offers an insulated all-leather design, with a nice padding on the back for better protection and insulation. These gloves are fully waterproof, but they lack in the comfort department. They are stiff and not well-liked for their dexterity compared to the other products. However, they offer a really good fit and closure system.
Modern ski gloves can be expected to have common features features like:
articulated fingers, for an easier grip and better dexterity
zippered pockets, for removable hand warmers, which helps in allowing a glove to be used in any condition
nose wipe, softer and absorbent layer on the outer surface of the thumb used to easily wipe your nose; yeah, I assure you this is really important in cold weather
mini squeegee, a layer that helps you wipe your goggles
touchscreen-friendly, to allow the use of smartphones or tablets
In conclusion, even with these new features, the main object of gloves is to keep your hands warm, be comfortable and allow the user as much freedom of movement as possible. So, make your choice wisely.