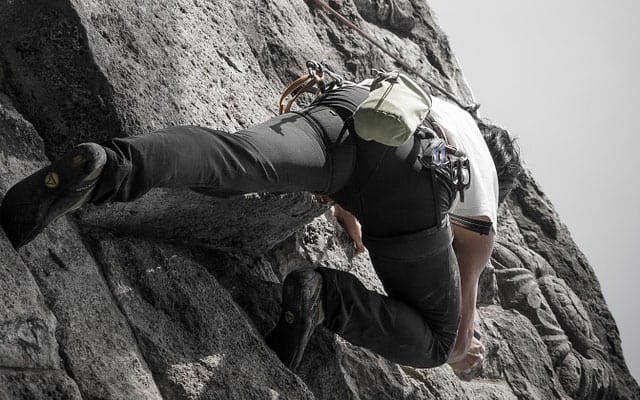 Ireland may be a small island but it's a place full of breathtaking landscapes and diverse terrain. It offers a lot of activities for rock climbers, including beginners, and you can find climbing spots at the seaside cliffs as well at many of the Ireland's mountains.
A great area to begin your rock climbing adventure is at the Dalkey Quarry. An area formerly used for mining granite in the 19th century, the Dalkey Quarry is now a public park. It is considered one of the most popular climbing spots in Ireland because of its close proximity to Dublin. Getting to the quarry will only take a 30-minute DART ride and a short walk to the entrance.
The quarry is divided into three areas: West Valley, East Valley, and Upper Tier. If you are new to the sport, don't fret as The Outsider noted that the quarry has routes suitable for both beginners and experienced climbers. Take your pick from slabs and crags to chimneys and steep overhangs! These routes can be accessed by travelling through a maze of narrow paths, which in itself is an adventure.
There are two routes in the quarry that are usually recommended for beginners, and they both feature unusual names. The Paradise Lost route is not as scrappy as other routes but it still does require basic climbing moves. Overall, it's an easy climb, with just a few slabs and cracks here and there. The Yorkshire Pudding route, meanwhile, is a straightforward deep crack. The climb here is more challenging, but the amount of footholds makes it more accessible.
Once you've become familiar with these routes, you can try the more complicated routes in the quarry such as Dirty Dick, Bite the Bullet, Street Fighter, and Moonlighter. If you think you've got what it takes, consider the difficult routes like Indecent Assault and Ripsnorter.
Even if you're not into rock climbing, the village Dalkey is worth a visit. Along with many other areas in Ireland, Dalkey boasts scenic views. The surrounding hills and trees offer a sense of escape, so if you want privacy, this is the ideal place to go. Ireland's official Tourism website stated that Dalkey has attracted well-known personalities from all over the world, including Michelle Obama, Woody Harrelson, and Penelope Cruz. The village was also once the home to famous literature personalities James Joyce and George Bernard Shaw, who reportedly wrote the first chapter of Ulysses there.
Speaking of literature, Dalkey is also well known for its folklore and legends. One of its attractions is Biddy Cottage, where renowned storyteller Biddy entertains visitors while they have their tea, oatcakes, with whimsical stories of Dalkey. Everyone knows how rich Irish folklore is, and many tourists from across the globe visit Ireland just to experience these folk stories firsthand.
That includes the Leprechaun, the infamous mischievous creature that hides a pot of gold at the end of a rainbow. The Leprechaun is such an iconic character that it became the mascot for NBA's the Boston Celtics, and the persona of American professional wrestler Hornswoggle. Leprechauns also take centre stage in the Irish-folklore-inspired slots on Foxy Games such as in Rainbow Riches as well as Irish Frenzy and Irish Eyes 2. You might not get to see Leprechauns in real life, or even see one dance for that matter, but their stories as well as Irish culture in general are enough to fascinate travellers, and a trip to Dalkey gives you the best of both immersive culture and the adrenaline rush of conquering its challenging terrain.
All in all, you get to witness the stunning views of the area while enjoying a hobby you love. For more posts about exciting adventures, check out other articles in JustChalets' Outdoor Pursuits archive.