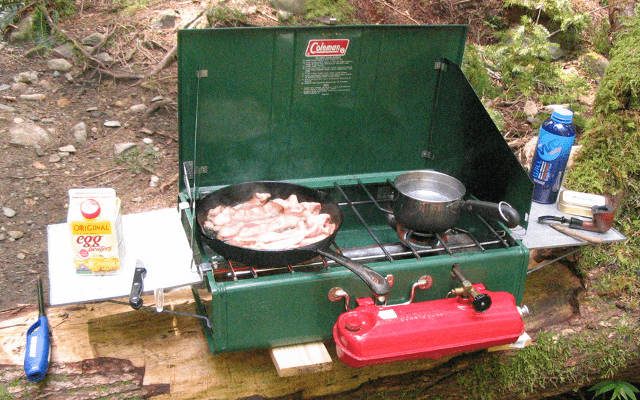 Most people worry that when they are out there in the wilderness enjoying those unspoiled fringes of nature, they might end up missing out on their usual array of well-cooked delicacies. Undoubtedly this would've been true at one time but these days, with the help of backpacking stoves, you can enjoy pretty much any meal even when you are camping in the middle of nowhere. A well chosen gas or electric camping stove should be high up on your list of priorities when putting together the equipment for your expedition or holiday.
In fact, these days the number of options to choose from can be a little mind-boggling – how much should you pay? What kind of fuel? Who makes the best stoves and which should you avoid? As a consumer, it's always worth looking for the best deal. We've tried to make this task easier for you by listing what we consider the the best camping stoves available this year. Our list of the top 10 particularly takes into account the portability of the stove, their functionality, safety features and ease of use.
This might just be the best option for a portable gas stove that we've come across. It is not only compact but is fueled by gas which ensures that it's highly economical as well. The cartridges have a safety locking mechanism, ensuring that using it is completely safe. It provides you with automatic ignition as well as simple controls for dictating the size of flame and amount of heat generated. This makes it a great stove for preparing a wide range of food. All in all, you might not need to look further for a more compact and functional portable stove than this option
Pros:
Automatic ignition
Safety locking mechanism
Extremely compact
Easy to use
Variable heat & flame
Cons:
Not suitable for operation in windy conditions
---
If you're looking for something even more portable, this burner stove is the perfect option for you. It also incorporates the Piezo ignition and its small size ensures that you are able to carry it pretty much anywhere you might want to take it. The energy efficiency is such that it will be able to boil water within 3 minutes; impressive for such a wee tool. Since it is made from aluminum alloy and stainless steel, it's a hardy stove that'll take a decent amount of punishment and remain in good working order.
Pros: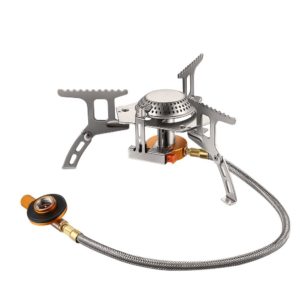 Energy Efficient
Lightweight
Durable
Easily Adjustable Flame
Compact
Cons:
Flared up unexpectedly at times when first lit, worth watching out for.
---
We've all ended up camping or hiking in windy conditions where a fragile gas flame just isn't going to last the course – you need more advanced protection! This stove is an excellent solution for that scenario, with tall sides that protect the flame. The stove is made of few parts and is a doddle to assemble, ensuring that you are able to set it up within a few minutes. Do bear in mind that this is a stove intended for wood fuel, so should only be used in regions where that is a viable resource. It does allow for alcohol fuel as a backup, but we wouldn't rely on this purely as an alcohol stove.
Pros: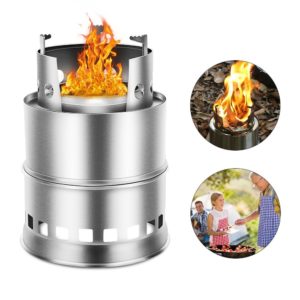 Easy and quick to set up
Great in windy conditions
Alcohol fuel backup can be a lifesaver
Very lightweight
Cons:
Heavy fuel means that this just isn't as convenient as a gas or electric stove
---
An excellent thing about this particular portable stove is that it comes with a good quality carrying case. This ensures that when not in use, you can keep it dry and safe from clattering around. In general it's a tidy little stove ideal for use in a confined space. This is another economical gas stove and seemed to kick out a hotter flame than most others that we tested, cooking our breakfast in a very agreeable time. With the help of Piezo ignition, it ignites at the press of a button and operation was quick, reliable and foolproof.
Pros:
Durable aluminium alloy construction
Very useful protection/carrying case
Minimal design & small size
Economical with gas but a quick cooker
Cons:
Spark igniter took a few goes to get going.
---
If you're looking for a more elaborate portable stove, this one also boasts a very usable grill. We found that the 1.5 KW burners kicked out enough heat that this improved the range of meals we were able to consider when out on the trail. The grill's briefcase-type construction ensures that it's easily carried and that the internal gubbins are well protected. We were pleased with the reliability of ignition and the speed of cooking. This would be an excellent stove for a couple or small group.
Pros:
Grill is sturdy and burners hot enough to make it useful
Highly portable due to briefcase design
Reliable first time ignition
Cons:
Shouldn't be heavily loaded as the build quality isn't exceptional.
---
A good quality alcohol and wood-fueled stove. As with the other wood stoves on this list we'd recommend that you not rely simply on alcohol to get this going. Owing to the stainless steel construction, this is a sturdy package though it does scratch rather easily. Despite the slightly awkward shape it is easier to carry due to a useful mesh bag. The compact size is another added advantage.
Pros: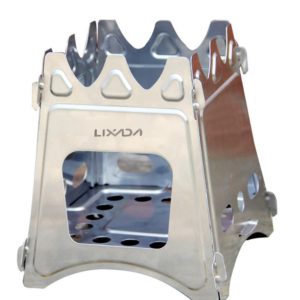 Lightweight & versatile
Compact for a wood stove
Very durable
Useful carrying bag somewhat negates the unusual shape
Cons:
Scratches up pretty easily
Not the easiest to set down on uneven ground
---
We all prefer a stove which can be easily ignited and which is perfectly safe for use. This stove meets those needs perfectly. It is lightweight and highly portable. Moreover, it has a safety locking feature which ensures that the gas canister isn't easily dislodged. The automatic ignition was reliable and the flame highly adjustable. This is a solid stove which is likely to include all the features which you'd be looking for when preparing your al fresco bacon sandwiches.
Pros: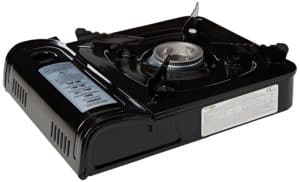 Compact & Lightweight
Good safety locking mechanism
Reliable ignition
Cons:
Flame adjustment controls aren't terribly sensitive
---
An excellent option for a stove with high fuel capacity. It lasts for around 2 hours on a single cartridge. This gas stove ignites easily and was capable of boiling fresh water in around 7 minutes during our testing process. At just 280g this is an extremely lightweight stove that will serve you well on your outdoor adventures.
Pros: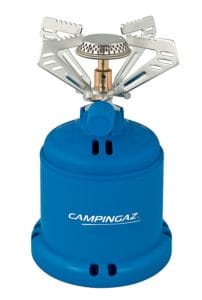 Economical design with up to 2hrs per bottle possible
Extremely lightweight
Cons:
Balancing the gas bottle on uneven ground can be a trial.
---
This is another stove that is available cheaply with 8 included gas bottles, ensuring that with one puchase you've got plenty of hot meals in your near future. The safety shut off on this stove is well-designed and reliably shut off when left open during our tests. This is another lightweight and efficient stove that we'd recommend for a single person or couple during a short trek.
Pros:
Available with up to 8 gas bottles included.
Reasonable wind protection
Good safety features
Lightweight
Cons:
Comes with a pretty poor carrying case with very little protection.
Packaging doesn't come with instructions.
---
So if you're going out rambling and want yourself a hot dinner we'd consider these to be the most reliable, safe and easy to use stoves out there. Enjoy yourself out there!