Hidden away from popular tourist maps, there is a place in the Balkans where snowy winters create breathtaking scenery. A mountainous region with few legitimate trails, Macedonia offers vast areas that are wild enough to excite the seasoned snowboarder, yet tame enough to welcome the amateur aficionado.
Covered with thick forests, a garden variety of vastly unexplored slopes, and 300 sunny days throughout the year, the Macedonian outdoor experience has lots to offer.
Though at the far south of all other formerly Yugoslav territories, and with a climate that is often described as Mediterranean, Macedonia is home to more than a handful of snowy peaks, where winter temperature can hold up to about six months. Appealing to seasoned enthusiasts because of its rural landscape, Macedonian mountains are randomly populated with picturesque villages that only add to the charm.
As a short guide, this article aims to familiarize you with the underdeveloped Macedonian trail infrastructure, yet overly exciting wilderness and rural areas.
Affordable enough to stay much longer than anywhere else, Macedonia can offer unmatched hospitality, gourmet experience on a budget, and a rather deep cultural vault to explore. So allow me to walk you through…
Transiting through Skopje
A city not entirely popular for its snowy winters, Skopje is the capitol where 90% of all foreigners usually land. Especially polluted during the winter season, it's a place where you don't want to spend more than a couple of days. While it is a true paradise during the summer, in winter it's largely a transitory area for tourists.
The mountainous landscape of Macedonia, though, is noticeable right away. Only 15 minutes are separating the center of the city, with the scenic mountain of Vodno nearby.
Hiking, in the snow, feels surreal when you realize that you've been walking the city streets just less than an hour ago. With a dense forest covering the palate of trails, and a very convenient cable car going to the summit, Vodno is your getaway strategy.
Popova shapka is your first destination
In what is almost an hour long drive away from Skopje, Shara Mountain is host to the closest winter center nearby – Popova Shapka, which is a real tongue breaker to pronounce, and has the largest trail infrastructure in the whole country.
Home to the Macedonian shepherd dog, Shara Mountain covers a vast expanse and some of the highest peaks you'll find in the region.
Outside of Popova Shapka, this makes Shara Mountain a very appealing place for snowboarding enthusiasts. Regardless of your level, you'll enjoy the untouched wilderness that is to be found drifting only few minutes away.
Given its height, Popova Shapka is largely covered with sunlight and a really pleasant temperature for charting new trails. In winter, the average temperature is around minus 1.5 degrees Celsius, and show accumulates at around one meter height even at 1300 meters above sea level. Most of the peaks, however, are around 2400-2500 meters.
Shara is also home to over 25 lakes that are constant, and found in small but picturesque valleys. Eagles, Falcons and Hawks are very common, and along with an abundance of fir trees and juniper trees, the visitors gets a feeling of complete immersion, separated significantly from civilization and urban living. This is what makes Shara ideal for charting new trails, amidst dense forest belts and untouched wilderness.
Macedonian cuisine
Affordable as everything else, dining in Macedonia is quite the experience. The cultural mix that bears centuries of different neighboring traditions is best felt in your plate. Ottoman food, mixed with Mediterranean diet and then some traditionally Slavic dishes is what makes Macedonian cuisine especially tasty.
Few local villages are supplying accommodation, and more notably food. Homemade cheese, meat, mushrooms, and Macedonian dried vegetables that mix perfectly in domestic cuisine.
You'll also enjoy Macedonian beer, and definitely rakija – a strong alcoholic beverage that resembles the whiskey (only much more potent).
It is an excellent way of ending the exhausting day of snowboarding and exploring the wild.
Do taste Tavce Gravce, Stuffed peppers, Shopska salad, and definitely Ajvar.
The village of Mavrovo
Two hours away from Shara Mountain, you'll arrive at the village of Mavrovo. Located near the Mavrovo Lake, which is especially beautiful during the winter, Mavrovo is one of the villages that decorate the Bistra Mountain.
Here, rural living is even more evident, and small orphan groups of houses are scattered across many parts of the mountain. Essentially, it can make the entire snowboarding experience much more immersive.
On the road to Galicnik (another village located nearby), you'll see some of the most breathtaking Macedonian scenery. Part of the national park Mavrovo, this region is home to the Macedonian wild cat as well – a very rare animal that only few dozens of people report seeing annually.
If you happen to visit Galicnik, make sure to continue the road and taste the beautiful pies baked in Jance.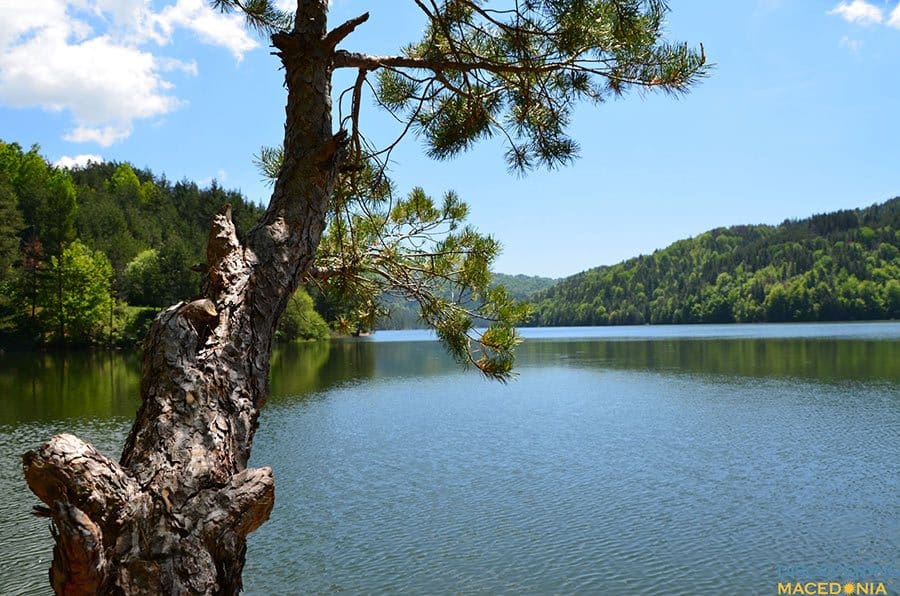 The small town of Berovo
Located at the other side of the country, Berovo is the highest-altitude city in the Balkans. Populated with a garden variety of trees, Berovo has twice the density of forest than both Mavrovo and Shara Mountain. And when this scenery meets the dam and lake nearby, it's a sight to behold.
Just as the other small towns and villages, Bevrovo is excellent for charting your own trails, but you'll have to take a 15 minute car ride from the town and up the mountain.
There is a very old Monastery to visit nearby, and one of the best accommodation facilities named Aurora, where you'll enjoy an unforgettable winter vacation.
At a one hour drive away, there is the Ponikva ski center, which is just more of underdeveloped trails, and equally available off-road opportunities. Wild life there is even more evident, as the center is visited quite less when compared to Popova Shapka and Mavrovi Anovi (Mavrovo's ski center).
The interesting thing about Macedonia is that the climate can change rather dramatically during the year. Sometimes, it will even snow at high altitudes, in the dozens of centimeters, while valleys are enjoying spring in its full manifestation.
Expect to see sights such as the picture above, only hours away from a snowy peak where winter is in full swing.
I would fold up this letter by recommending that you arrive in late January, and prolong your visit at least for a week or two and head south. There is much to enjoy and savor – Discovering Macedonia is an experience of a lifetime.