The United Kingdom boasts a wide array of captivating areas of natural beauty. Tourism is an extremely important part of the economy of the United Kingdom and a major part of this is down to the landscape. As the author Linda Hogan said, "There is a way that nature speaks, that land speaks. Most of the time we are not patient enough, quiet enough, to pay attention to the story".
Fairy Pools
The fairy pools are a magnificent waterfall in Glen Brittle on the Isle of Skye. Observing this magical waterfall puts you in mind of a piece of fantasy art. The location is popular among tourists for its sense of adventure and sheer natural beauty. Fairy pools are also a host to a wide range of birds and animals, which makes it an excellent place for wildlife spotting. Walking on the Isle of Skye is a unique experience and the pools are a must-see stop along the way while you explore and enjoy what the island has to offer.
Glenbrittle, Isle of Skye IV47 8TA
Puzzlewood
Puzzlewood, an area of captivating, ancient woodland near Coleford in the Forest of Dean, is a popular spot for tourists. Puzzlewood is a mysterious land which contains various kinds of trees, caves, and rocks – it was exploited as far back as the Iron age and Roman conquest (In 1848,  more than 3,000 Roman coins were found in this area) due to the valuable iron ore that these caves contained. The area was also used as a shooting location in the "The Lord of Rings" film franchise, as well as "Star Wars: The Force Awakens."
Perrygrove Rd, Coleford GL16 8QB
Ben Nevis
Ben Nevis is around 4,411 ft above sea level and it is the highest peak of the British Isles. The mountain is famously attractive to adventurous tourists. It is also known as "The Ben" among tourists and residents. This fascinating green mountain is emblematic of the Scottish Highlands, harking back to a volcanic past. Many famous faces have scaled the peak – on 17 August 1771, James Roberston was the first climber of this mountain. The renowned poet John Keats also conquered the summit in 1818. You don't have to be a storied mountaineer, however – around 100,000 people climb up this mountain every year.
Lochaber, Highland, Scotland, UK
Fingal's Cave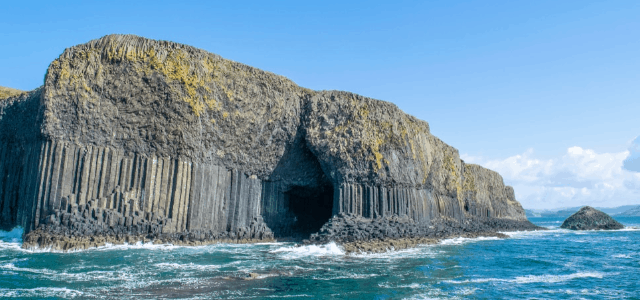 Fingal's Cave is present on the island of Staffa in Scotland. This astonishing hexagonal Fingal's Cave is 270 ft deep and 72 ft tall. The cave is surrounded by a six-sided pillar which makes a path for visitors above sea level to go inside the cave and inspect the interior cave. Some 60 million years ago, an ancient lava flow created the Fingal's Cave. The site's mythical allure has made it the inspiration for several works of music and literature: "The Hebrides" was written by composer Felix Mendelssohn when he visited this place in 1829, while "A Dream Play" by the playwright August Strindberg also makes note of the caves.  More recently, the movie "When Eight Bells Toll" filmed some scenes at Fingal's Cave.
Staffa, Scotland
Llanfairpwllgwyngyll
Llanfairpwllgwyngyll might not sound like a real place, but it is a genuine village of the island of Anglesey, with what is thought to be the longest place name in Europe. The English translation of this name is "The church of St Mary in the hollow of white hazel trees near the rapid whirlpool by St Tysilio's of the red cave." A site of continued human habitation since 4000BC, agriculture and fishing are the main economy source of this village.
Anglesey, Gwynedd, Wales
Seven Sisters
Seven Sisters is a channel of seven chalk cliffs making up part of the South Downs of East Sussex. Each of the sisters has their own unique name – Haven Brow, Short Bottom, Short Brow, Limekiln Bottom, Rough Brow, Rough Bottom, Brass Point and Gap Bottom. These beautiful white cliffs are becoming green over time due to vegetation, thriving in the wet climate. The view from the cliff shouldn't be missed.
South Downs National Park, Sussex, England
Glyder Fawr
The word "Glyder" developed from the Welsh word "Gludair" meaning heap of stones. Glyder Fawr is the highest mountain in the Glyderau range and the fifth highest peak in Wales. The National Trust is entrusted with taking care of this vast area of around 7,000 hectares. This dazzling high land gives breathtaking panoramic views of the entire Glyderau range. If a sense of calm and isolation is what you're hoping for on your visit, this is an ideal spot.
Gwynedd / Conwy, Wales
Lulworth Cove
Since the Victorian era, Lulworth Cove is an attraction of tourists. Millions of people visited this cove every year and it remains a notable stopping point along the Dorset coast. Lulworth Cove sits near the village of West Lulworth and boasts white pebble beaches and beautiful, clear blue waters making it a favourite area of interest for those interested in the field of geology.
Near the village of West Lulworth, on the Jurassic Coast in Dorset, England
Pistyll Rhaeadr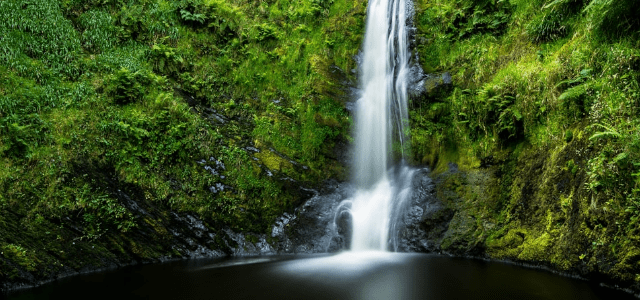 Pistyll Rhaeadr is an impressive waterfall which can't help to catch the eye of tourists in the Berwyn Mountains. This dazzling waterfall is situated near a small village named as Llanrhaeadr-ym-Mochnant, in Powys – one of the preserved counties of Wales. Pistyll Rhaeadr's Welsh meaning is "spring of the waterfall" There's a cafe and a B&B nearby should you want to spend more time in this lovely area.
Tanypistyll, Llanrhaeadr-ym-Mochnant, Oswestry SY10 0BZ
Loch Lomond
Loch Lomond is a freshwater lake in Scotland. It attracts a lot of visitors due to its the flora and fauna that thrive around its banks – with red deer, golden eagles, osprey and pine martens all calling the area home. The Scottish Highlands are rich with beautiful areas of outstanding natural beauty, but Loch Lomond is one that we guarantee will stay with you for years to come.
West Dunbartonshire/Argyll and Bute/Stirling, Scotland
Author Bio: Jessica Watson is a travel and business writer who currently works for taxi in Reading – a famous name in Berkshire as a result of their splendid services.