Engelberg-Titlis may be one of Switzerland's smaller ski resorts, but what it lacks in size,  it makes up for in things to do – making for the ideal action-packed long weekend.
Considering its size, the small and very Swiss village of Engelberg – translated as 'Angel Mountain' – is surprisingly well known around the world.
The Swiss hit the pistes for a long weekend's skiing, adrenaline-junkies from all over Europe descend on the resort for its challenging off-piste 'freeriding' and, bizarrely, Indian tourists flock to the tiny resort to follow in the footsteps of famous Bollywood stars, after several films were shot on the towering Mount Titlis.
For such a compact resort, there is much more than meets the eye.
Engelberg
I was here predominantly for the skiing – one last sojourn on the slopes before saying goodbye to the ski season for another year. At just over an hour's drive from Zurich Airport – and easily accessible by train – the pretty Alpine village and its surrounding peaks make for a great long weekend.
The majority of the skiing is for intermediate and experienced skiers, boasting mostly red and black runs, which is good news for those that want to hit the slopes 'running', but slightly less ideal for learners and those with young children. The ski resort may not have miles and miles of pistes, but there is the perfect amount to occupy anyone for a few days. And, for those that prefer fresh powder and challenging descents, Engelberg is well known for its freeriding, which more than doubles the terrain on offer.
Iglu Dorf
I am a big fan of ski-in-ski-out accommodation, especially after a tiring day on the slopes, and I couldn't have been any closer than I was on my first night in Engelberg. Why? Because I stayed in an igloo village – Iglu Dorf. Taking the crown as the quirkiest place I have ever stayed in, it was one of the highlights of my stay in Engelberg and certainly a once-in-a-lifetime experience. Not only is it a bit of fun but it has serious green credentials too as it is built every year from scratch. The igloo village is completely sustainable – melting away in the summer when the land reverts back to verdant meadows.
Romantic room
This year the theme was 'oriental' and the igloo was decked out in sparkling ice sculptures and sheepskin rugs, with stunning designs engraved into the compacted snow walls. Ranging from standard igloo rooms to the cosy romantic rooms and the 'hot igloo' for special occasions, Iglu Dorf takes around 3000 hours to create and is built in a revolutionary way: by blowing up giant balloons and covering them with compacted snow. It's far from basic (as igloos go) as it also boasts a hut tub, ice bar and dining room.
Our evening started off with a warming Glühwein (mulled wine) before we huddled around our dinner table for a traditional cheese fondue. The bar is open all evening, selling everything from beer to champagne (your cup is labelled so you are encouraged to use the same one), but the igloo village organises an evening activity before everyone hits the sack – snowshoeing! We trudged by torchlight around the large lake, stopping to look down over the glittering town of Engelberg; a gorgeous sight at night. Tired after the evening's activity, and after a refreshingRicola mint tea, I slept soundly in my sleeping bag (which is designed for chilly nights – down to -40!). Considering I was surrounded by icy walls, I was quite snug.
Electric biking at the SnowXPark
But Engelberg isn't only known for its skiing; the next day I checked out one of the newest action-packed (and eco-friendly) activities on offer – electric biking. The SnowXPark is located next door to the igloo village and it's great fun tearing around the snowy track.
During my stay I also checked out the newly-opened Titlis Cliff Walk – the highest suspension bridge in Europe. Getting up to the top of Mount Titlis is an experience in itself as you take the world's first revolving cable car, in which you can see 360-degree views of the stunning mountainous landscape. Once at the top, the Titlis Cliff Walk is a few minutes' walk away, at an impressive 3,020 metres above sea level. Not quite as vertigo-inducing as I was envisaging, the suspension bridge does, however, offer fantastic views of the untouched glacier and peaks of Central Switzerland beyond, towering above the wispy clouds. This is a tourist attraction in itself and an ideal activity for those that want to see the breathtaking panoramic vista from Mount Titlis, but don't want to ski (although you can ski down from here).
Titlis Cliff Walk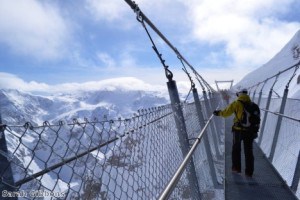 Before heading home, there was just enough time to explore one of the other icons of the region – the picturesque monastery, still home to about 30 monks who live and work in this peaceful village. Dating back to the 12th century, the village is defined by this imposing monastery, and the town was built around it. It also is home to Switzerland's largest church organ, which adorns the entire back wall. The monastery is also home to a private boarding school and a charming family-run cheese factory, where you can even watch it being made, do tastings and – of course – purchase plenty to take back home with you.
With all this on offer in one little pocket of the Alps, I now know why the world has fallen in love the Angel Mountain. From great skiing to snowshoeing and igloo living to electric biking, what more could you ask for on an action-packed weekend?
Fact box:
SWISS offers up to 32 daily flights from the UK to Switzerland. Fares start from £113* return, including all airport taxes. (*Please note this is a lead-in fare and is subject to change, availability and may not be available on all flights. Terms and conditions apply.) For reservations call 0845 601 0956 or visit: www.swiss.com
Engelberg Airport Shuttle: transfer from Zürich Airport by minibus departing at 11pm each Thursday and Friday between end of November and Mid-April. Price 75 Swiss Francs per person (approx. £53). This needs to be booked online at: http://www.engelberg.ch/en/tourist-center/tourist-center/.
For people arriving earlier in the day or on different days, they can simply purchase a train ticket from the machines or counter at the train station in Zürich airport. Price for a return ticket in second class is 82 Swiss Francs (approx. £58)
Hotel Bellevue – for rooms similar to the ones we had (so called 'New Standard' rooms) prices from 200-280 Swiss Francs (approx. £140-£200) per room per night in winter incl. breakfast and taxes.
Igloo Village – Prices from 159 Swiss Francs (approx. £113) for a standard 6-bed igloo to 349 Swiss Francs (approx. £250) for the hot igloo. All prices are per person and include the fondue dinner, tea, snowshoe-tour and breakfast
Ski passes for the whole ski area cost 62 Swiss Francs for one day (approx. £44) / 115 Swiss Francs for 2 days (approx. £82) / 164 Swiss Francs for 3 days (approx. £117). Discounts available for youth (16-19 years old) and children (6-15 years old).
SnowXpark (bikes on snow) – Cost 10 Swiss Francs as starting price (incl. four minutes ride) and then extra two Swiss Francs per minute.
For more information on Engelberg, visit www.engelberg.ch.