North America is a popular choice for British skiers and often this means Canada rather than the States. Many of the great attractions of skiing 'over the pond' are the same but a major advantages with Canada are the direct flights from England to the main airports in Canada, typically without having to change flights.
Canada offers a huge array of different ski resorts, with fairly quiet slopes, great lift systems, regular dumps of snow and flawless grooming of the pistes. The accommodation is of a high standard and the service is friendly and warming. Canada is certainly worth a visit, and if is the main resorts of Europe that usually entice you, Canada may, quite rightly change that.
Essentially Canada is split in to two for the skiing areas: the West of the country and the East.
a) Western Canada
The snow is frequent and powdery with lots of steep terrain within resort boundaries, so the skiing is suitable for beginners all the way up to advanced levels. The west provides some amazing scenery and an impressive array of wildlife, especially around the Rockies. The big names of Whistler, Banff and Lake Louise see the most of the British market but other resorts are popular too for example Kicking Horse, Sun Peaks and Fernie. The only downside is the long flight times but a 10-14 day ski holiday makes this an insignificant part of the holiday considering everything else.
The best ski resorts in Western Canada include the following:
Whistler
Banff
Lake Louise
Kicking Horse
Sun Peaks
Fernie
b) Eastern Canada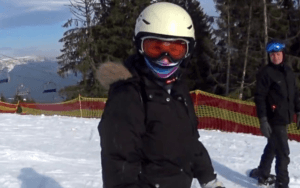 Skiing in the east is like being in another world. The capital Quebec has a big influence with great French culture and French being spoken in the province. With the East being so much closer to the UK than western Canada another great draw is it's only a six hour flight. The snow conditions in the east can be unpredictable which includes ice and rock hard piste. The temperature can also be extreme in early and midwinter, but this is an advantage as the snow making machines can get going and make the ski season a long one providing excellent snow conditions. Quebec makes a great base for access to many of the ski areas including Stoneham, Mont-Ste-Anne and Le Massif. The main resort destination however is Tremblant which is situated near to Montreal.
Our recommended skiing resort in Eastern Canada is:
Skiing chalets in Canada means quiet pistes, tree-lined views and cheap mountain restaurants. Expect a classic holiday with some of the best skiing anywhere in the Northern hemisphere.