Switzerland is home to the traditional skiing chalet and its many beautiful ski resorts, all varying in size and style make this country a delight to be in. Many of the Swiss resorts have transformed themselves from traditional farming communities to mountain villages that still have an established working local community. Many resorts are as popular in the winter as they are in the summer.
Switzerland has many legendary ski resorts and with the likes of St Moritz, Verbier, Saas-Fee and Zermatt for example, there is plenty to keep you occupied. Many of these villages have a massive choice of chalets often rivalling the number you would typically find in much larger popular French resorts. Some of the villages have lovely mountain railways that also double as lifts in the winter that take you up in to the mountains to some of the most mouth-watering mountain restaurants and views imaginable. Switzerland will offer you a comfortable, pretty, friendly laid back atmosphere with skiing that will take your breath away and scenery so stunning you will want to return year after year.
The most popular ski resorts in Switzerland with excellent catered skiing chalets include (click a destination below to skip ahead to our guide for that region):
The three main ski areas in Switzerland are the 4 Vallees, the Jungfrau and the Swiss region of the Portes du Soleil (Champery, Morgins, Torgon, Val-d'Illiez, Les Crosets and Champoussin).
Situated in the south-west of Switzerland in the canton of the Valais, Verbier is bordered by France to the west and Italy to the south. From its sunny plateau perched high up on a mountainside at an altitude of 1500m, Verbier offers some amazing views combined with world-class skiing. In the shadow of Mont Blanc and the Grand Combin it is the largest resort of Les 4 Vallees which offers some 412km of piste and has more than enough for everyone to enjoy.
The village of Verbier it somewhat spread out and as new chalets are being added every year it is getting bigger; it does not lose its attraction however. Verbier draws its alpine charm from its traditional chalet-style buildings harmoniously nestling in the hillside. Most of the shops, restaurants and hotels are centred around the Place Centrale and along the streets going down from here and also up towards the main lift station at Medran, about 400m further up. At the end of the skiing day this area comes alive with a buzzing cosmopolitan atmosphere of skiers coming together to enjoy the great restaurants and lively après ski but a quieter and more refined piano bar can easily be found too.
Verbier is referred to as the chalet capital so there are many to choose from to suit every budget; many are located out of the main area but the free buses that ferry skiers around the village are very reliable and frequent. Staying near the upper northeast area could mean that you can ski to and from the door, but if nightlife is what you are after then staying between the Medran lift station and the Place Centrale is convenient.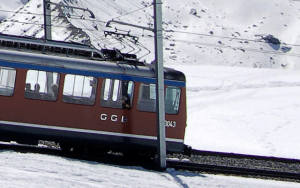 Zermatt is arguably one of the world's most scenically beautiful winter resorts, thanks to the truly amazing views from seemingly any location of the mighty Matterhorn that towers above the resort. The skiing has something for everyone; it has 34 lifts and 200km of piste to play on, so there is never a dull moment. It is quite easy to ski over to Cervinia in Italy for a change of scene – the two resorts are directly linked and Cervinia is skiable on the Zermatt lift pass.
Zermatt was once a simple farming village; in the 19th century it was developed as a mountaineering centre and has not looked back since. Over recent years Zermatt has grown vastly and is not so much a village but more a town in size. It retains its alpine charm, with its traffic free streets (apart from the abundance of electric buggies ferrying people around) but at time it can seem a little chaotic. Visitors to Zermatt must leave their cars in the car park in Tasch and arrive via an efficient 15 minute train journey. From the station which is located in the middle of Zermatt you can hire a sledge, get on a horse drawn sleigh or free bus to get to your chalet.
The resort has a real mix of architecture from old chalets, ancient barns and more modern development, all are very traditional occasionally mixing in with modern sophistication. Chalet accommodation can be spread out and depending on your chalet or hotel you may have a fair walk or bus ride to get to the ski lifts or the centre of town. There are plenty of skiing chalets to choose from in Zermatt so it is an advantage to stay close to the slopes but these tend to get booked up early.
Saas-Fee is a charming little place, traffic free and is a quintessential Swiss ski resort; high, snow-covered alpine peaks surround the old traditional village which is made up of old wooden farm stays, chalets and stone clad buildings (there are cow sheds that still contain cows!). The scenery from the village and slopes is spectacular as it is surrounded by 13, 4000+m peaks.
Saas-Fee is known as The Pearl of the Alps and lies on a high plateau of the Saas Valley, above the other three Saas communities, Saas Grund, Saas Almagell and Saas Balen in the Valais area 15km north-east of Zermatt. There is skiing up to 3500m in this internationally renowned village which nestles at 1800m so good snow in Saas Fee is virtually guaranteed.
The village is car-free and there are car parks on the edge of town for you to use whilst you stay in Saas-Fee. The transport options are horse-drawn sleighs and small electric taxis that ferry you around the village – it's worth exploring the narrow side streets which lead to charming little squares and old watering holes. The main street is lined with charming wooden chalets, quality shops and some great restaurants – there's a good mix to choose from. The range of chalet and chalet-hotel accommodation in Saas-Fee is good too considering its size.
Many skiing visitors to Saas-Fee tend to drop in for a few days and then move on as the extent of the slopes is not vast (100km or so). Saying that there are lots of lower flat sunny slopes for beginners, families and intermediates – there is a great ski school and ski area for the kids near the base of the lifts. Keener skiers and boarders should head up to Allalin and the huge glacier, and then ski down to Langfluh in one direction or Morenia in the other direction. Saas-Fee slopes are great for good long cruising and of course there are the usual tricky sections and moguls to get your teeth into and test the stamina.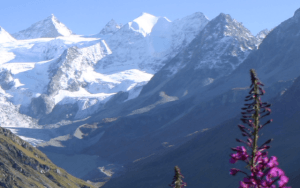 Grimentz is a great little ski resort, often referred to as the 'undiscovered gem' with its ancient chalets. The resort has a modern lift system and an impressive ski area.
The picturesque Valaisian village of Grimentz belongs to the municipality of Anniviers in the valley of the same name (Val d'Anniviers). It lies at an altitude of 1570m and the vast majority of the skiing is above 2100m thus making the area snow sure. The village has loads of rustic charm and is famous for its old granaries and the ancient Burgher House in the centre of the village that dates back to the 15th century. The old part of the village is mainly pedestrianized and crammed with old barns, traditional timber chalets and narrow cobbled streets. There is a new development going on and new chalets are being built; most of these are situated very close to the gondola going up to Bendolla at 2130m.
There are some lovely bars and restaurants to choose from and many of the hotels have good restaurants too. There is a good beginner area, making Grimentz a firm favourite for families and above this, there are two sectors of piste to choose from. On one side there are lots of blue and red runs and on the other the runs are quieter and a little more challenging, including some black runs. There is steep run that returns to the main village; alternatively take the gondola and enjoy the Swiss scenery. In addition to the piste skiing there is some awesome off-piste skiing to be done for which Grimentz has a great reputation for – there are plenty of guides on hand to tour this extensive area with you and your group. There is a free bus service that services the other smaller, lesser known resorts around Grimentz, including Zinal, Chandolin, Saint-Lucl, Vissoie, Sierre and Vercorin.
Klosters nestles in what has remained the rural part of the Prättigau valley in the east of Switzerland. Situated at 1200m, Klosters enjoys some of the best skiing in Europe. It accesses the same ski area as Davos and together they share an impressive 320km of well-marked piste. Unlike the much larger Davos, Klosters is a charming and delightful village with traditional architecture and a lovely village atmosphere. It has for some time been associated with ritzy, glitzy people and even royalty but the reality is the resort remains very old style, friendly and welcoming and not as pretentious as some may think.
The resort is essentially split in two; Klosters Platz is the main focus as it has lovely upmarket and traditional hotels along with some amazing restaurants and good bars and feels a little more exclusive which are centred round or very near to the railway station. Klosters Dorf is much quieter but still has the same rustic alpine charm of Platz. The cable car that leaves from the centre of the Platz takes you through the wooded slopes to the Gotschnagrat end of the parsenn area that is shared with Davos. There is a gondola that leaves Dorf and takes you up to the Madrisa area which is great intermediate terrain with some fab cruising red runs. Beginners will enjoy Madrisa's higher slopes as they offer a little more to do. Experts will enjoy the off-piste as it is lift linked and offers good unused snow. Cross-country skiers will find long trails immediately near Klosters as well as in Davos.
There are not a huge number of chalets to choose from but they do exist. If you like charm, sophistication and chic, a chalet in Klosters would be ideal.
Wengen sits on a wind-protected sun terrace at the foot of the imposing Eiger – Mönch – Jungfrau mountain range 400 metres above the Lauterbrunnen valley, in the Jungfrau ski region in the heart of the Bernese Oberland. Wengen is reached only by railway and there is no road leading up to it.
The village is very small and before the skiing arrived was a little farming village. The village of Wengen has a very relaxed and charming feel to it and the only cars are electric taxi's and the odd farming vehicle. The main street is the main hub of the village and this has chalet style buildings and the shops and hotels are located here.
Most of the accommodation on offer is in the large Victorian hotels but there are some catered chalets and self-catering apartments too. The location of your chalet is never an issue as Wengen is so small but if you stay down the hill then you will have a climb in the morning to get to the lift station. If you are looking for cheaper accommodation then staying down in Lauterbrunnen is another option.
St Moritz is located at 1,856m and is the oldest winter holiday resort of the world (since 1864). St Moritz is situated in the middle of the Upper Engadin, the remote, high valley of the En. The bottom of the valley is filled by a series of lakes and one of these separates the two parts of St Moritz; St Moritz Dorf (the eclectic main town) and St Moritz Bad (the more ordinary spa town).
St. Moritz is one of the world's most famous holiday resorts. With a reputation of chic, elegance and exclusive chalets and hotels, it has a very cosmopolitan ambiance. The two area of St Moritz don't particularly have a village charm and traditional character, more glamour and glitz. Dorf has two main streets that are filled with shops for the big credit card holders and some of the side streets are a little more modest. Bad doesn't have so much of the impressive glam but you can ski back to the village from the Corvatsch sector and it has a good range of shops. Most of the accommodation in St Moritz is big classy hotels with all the trimmings, but there are catered chalets to be had with a selection of UK tour operators hosting them.
4 Vallees Ski Region, Switzerland
The 4 Vallees (Les Quatre Vallees) or The Four Valleys as it is also known, is Switzerland's largest ski area. The area boasts 412km of slopes and has some amazing off-piste challenges. As the 4 Vallees has grown in popularity the region has spent vast sums of money upgrading the lift system to bring it up to the standards of areas such as the Three Valleys, Paradiski and the Espace Killy. The resorts that make up this skiers paradise are Verbier, Nendaz, Veysonnaz, Thyon and La Tzoumaz.
Verbier sits at 1500m and is the largest and most famous resort in this area. It's a very vibrant and cosmopolitan resort with lively nightlife set in a pleasant sunny setting. Verbier is a mecca for serious off piste skiers who will revel in some of the best most varied off piste in the world. It has some brilliant challenging slopes and others of a black standard which are now classified as 'Itineraires' (which means they are marked but not maintained and controlled). The front face of Mont Fort has some lovely runs for experts. There are two great Itineraires that go to Tortin, one from Chassoure and one from the north face at Gentianes. Intermediates with love the excellent and varied terrain of Verbier's local slopes but may need to head off to the other resorts for more of it. Beginners have the use of the nursery slopes close to the village and some nice progression slopes up at La Chaux. By heading up the mountain (the highest point being Mont Fort at 3330m) you can access the other areas of the 4 Vallees.
Nendaz sits at 1365m over from Verbier. It is a quieter place, not as so glamorous as Verbier but offers a more family orientated atmosphere and chalet accommodation at great value compared with Vebier. The village is built in traditional chalet style and it has its own area of slopes and therefore access to the other smaller local resorts such as Siviez. From Nendaz there is a gondola that takes you to the top of the local slopes at Tracouet where there are some lovely reds and blues back down to the village. Head further up to Plan du Fou and on to Siviez and you have the links to Verbier, Thyon and Veysonnaz. The nursery slopes are located at Tracouet, they are sunny and snowsure and progression slopes are best at Siviez.
Veysonnaz sits at 1300m and is a smaller family resort. It is probably the most attractive village in the 4 Vallees as it has many old rustic buildings centred around a church. There is an eight-seater gondola that rises from Veysonnaz and takes you to Thyon where there are some lovely reds. From Thyon you can access the other valleys or a quicker way is to drive or use the shuttle bus to start the days skiing at Siviez and access the other valleys.
Thyon sits high, at 2100m and is a purpose built village-resort with a few other villages nearby. Many of the small surrounding villages offer a very personal touch as they are nestled quietly in the Thyon-region and equate to an idyllic mountain retreat. Thyon is ideal for families as it offers all the facilities such as restaurants, bars, a supermarket etc… There are two nursery slopes close to the village and good links over to Siviez and ultimately other valleys. There are some good runs down to Veysonnaz and some brilliant runs to Les Collons and les Masses.
La Tzoumaz is a very small little hamlet that sits at 1500m nestled in a quiet valley on the shady, wooded side of Verbier. There are gondolas and chairs that serve this somewhat under-rated ski area and the links to Verbier are good. There are some great reds and blues that cruise back down to the village from the Savoleyres ski area which is La Tzoumaz's local slopes. The village has a natural ice rink and a great small ski lift for children. Visitors of all ages have to try the 10km Piste Du Luge which is the longest sledge run Switzerland.
Jungfrau Ski Region, Switzerland
The Jungfrau region is a ski area in Switzerland that has three major resorts of Grindelwald, Wengen and Murren and a combined 213km of piste. It has some of the world most spectacular mountain scenery with the Eiger, Monch and Jungfrau as an outstanding mountainous backdrop.
Grindelwald is a large long village facing the huge vertical north face of the Eiger, a dramatic scene if ever there was. The cog railway and station in Grindelwald adds to the old style charm and the traditional style chalets blend in with the beautiful surroundings. Grindelwald has a very good ski area and some really great intermediate terrain in the sunny First sector with some brilliant red, blue and black slopes. The Kleine Scheidegg sector, Mannlichen sector and Lauberhorn sector are shared slopes with Wengen and offer some really exciting skiing for all abilities. The Kleine Scheidegg sector has some lovely long and gentle blue and red runs and for beginners there is a good higher area to practise on and some great long runs to progress on to.
Wengen is a very charming, pleasant old village that sits between Grindelwald and Murren. The village is only accessed by cog railway and is an extremely friendly and relaxed place. The views across the valley are stunning and every keen skier should experience the beauty of the Jungfrau region at some point. Wengen has been made famous for the formidable Lauberhorn Downhill course, which is the longest a possibly one of the toughest on the World Cup circuit. The majority of Wengen's slopes are great for cruising. There are some good off piste runs for the experts and obviously the downhill course to get to grips with. The shared slopes of Grindelwald and Wengen are mostly aimed at intermediate, some more challenging than others but mostly nice and relaxed cruising is on offer here. The nursery slope in the centre of the village is very gentle and there are good slopes to progress on to.
Murren is situated across the valley floor from Wengen and is only reached by cable car. It is beautiful on so many levels, not only the spectacular scenery and imposing mountains but the winding paths and narrow streets that negotiate little wooded chalets in a truly tranquil setting. The village may be small but the skiing is quite varied, the lower slopes are below the treeline and there are three connected ski areas to explore. There are nursery slopes situated in the Allmendhubel sector and a few easy runs to progress to. Intermediates will want to explore the runs at Engetal below Birg at 2675m and also the runs coming down from the Schiltgrat sector. The black run from the top of the Schilthorn at 2970m is great fun and gently eases on to blues and reds at Engetal, there is lots of playing to be done in this sector before you will want to move on. There is a lot more for the experts to explore, not just in Murren but the whole Jungfrau region.
Portes du Soleil Region, Switzerland
The Portes du Soleil ski region has a stunning mix of skiing spread out amongst fourteen ski resorts in both Switzerland and France. The combined ski area has over 650km of pisted slopes making it one of the largest ski regions in the world.
Due to its location, there is traditionally good snow fall from mid-November until early May most years. The Portes du Soleil has six Swiss resorts of Champery, Torgon, Morgins, Les Crosets, Val-d'Illiez and Champoussin and eight French resorts of Morzine, Avoriaz, Les Gets, Abondance, Chatel, La Chapelle d'Abondance, Montriond and St Jean d'Aulps.